For tea enthusiasts, the best time to visit Shizuoka is during the harvest season. However, Suruga's mild temperatures, diverse landscape of mountains and sea, and seasonal activities and festivals make it a wonderful place to visit year-round.
Weather in Shizuoka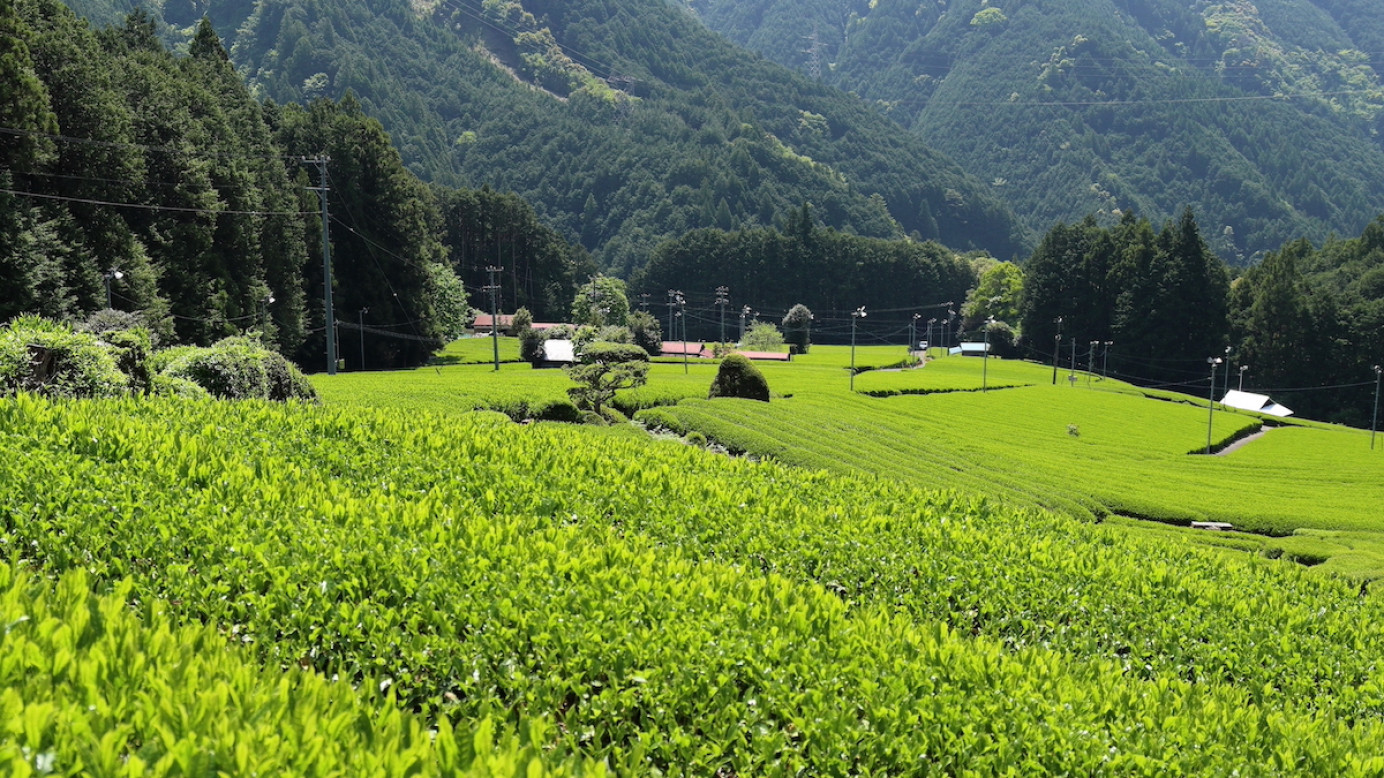 Shizuoka is blessed with moderate temperatures. The prefecture's winters are mild and sunny with average temperatures that range from 0 to 18°C (32 to 65°F). The summers are hot, humid, and rainy, with average temperatures between 21 and 32°C (70 and 90°F) and monthly rain accumulations of 280 to 305 mm (11 to 12 in). While spring tends to be rainier, both spring and autumn have equally comfortable temperatures.
Tea harvesting season
Shizuoka's tea harvesting season lasts roughly from April to August. During this time, numerous farms in the region offer tea picking experiences, along with other tea-related activities that are available year-round. Step into verdant fields and learn about different types of tea leaves and processing techniques. Taste a flight of unique tea blends, try your hand at tea rolling, participate in a tea ceremony, plant seedlings, and more. Makinohara is an especially popular place to explore the tea industry as it is one of Japan's leading tea producers.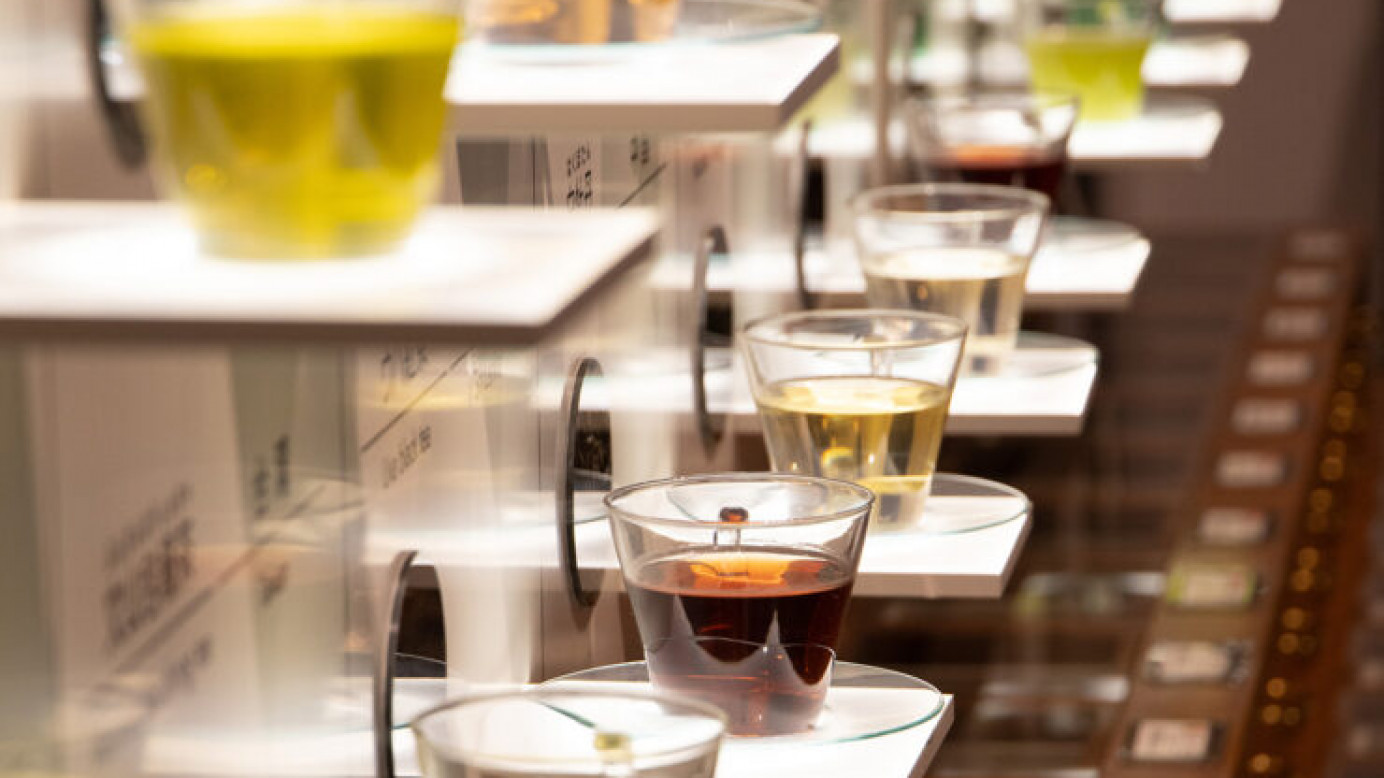 Discover Suruga's tea farms and immerse yourself in the terrific atmosphere!
Seasons
Winter
Although winter is Suruga's driest season, the northern mountains receive a fresh blanket of snow. The winter-clad mountains provide the perfect venue for skiing and snow hiking. Take to the slopes at Riverwell Ikawa Ski Resort in Aoi Ward, and enjoy skiing, snowboarding, and sledding.
Winter is also the perfect time to cozy up with a warm cup of tea. Visit one of Suruga's many cafes to escape the chilled air. At Mitsuhashi Green Tea Café, enjoy a locally grown cup of Makinohara tea paired with homemade sweets, or stop by Matcha More Café, and converse with local farmers as you blend the perfect cup of matcha.
Spring
As mentioned above, spring signifies the start of the tea picking season. Alongside the ripe tea leaves, are cherry blossoms, which reach their peak from late March to early April. Sumpu Park in Shizuoka City is a popular place to admire the dainty blossoms and plays host to Shizuoka Matsuri on the first weekend in April. This lively festival features food stalls, nebuta floats, parades, and performances. Koyama Castle in Yoshida Town is also a beautiful spot to enjoy the cherry blossoms and has an observation deck that overlooks Suruga Bay, Makinohara, Mount Fuji, and the Southern Japan Alps.
Summer
With Suruga's hot temperatures, summer is the best time to take advantage of Suruga Bay's cool waters. Miho Beach, located on Miho Peninsula in Shizuoka City, is an especially popular spot thanks to its scenic tree-lined paths and famous views of Mount Fuji. Walk or bike among the trees, or go swimming and fishing on the northern end of the peninsula.
Another refreshing summertime spot is the Oigawa River Area, which fuels the Oku-Oi region. Oku-Oi features lush nature from the Southern Japan Alps and an expansive manmade lake (Nagashima Dam Lake) perfect for kayaking.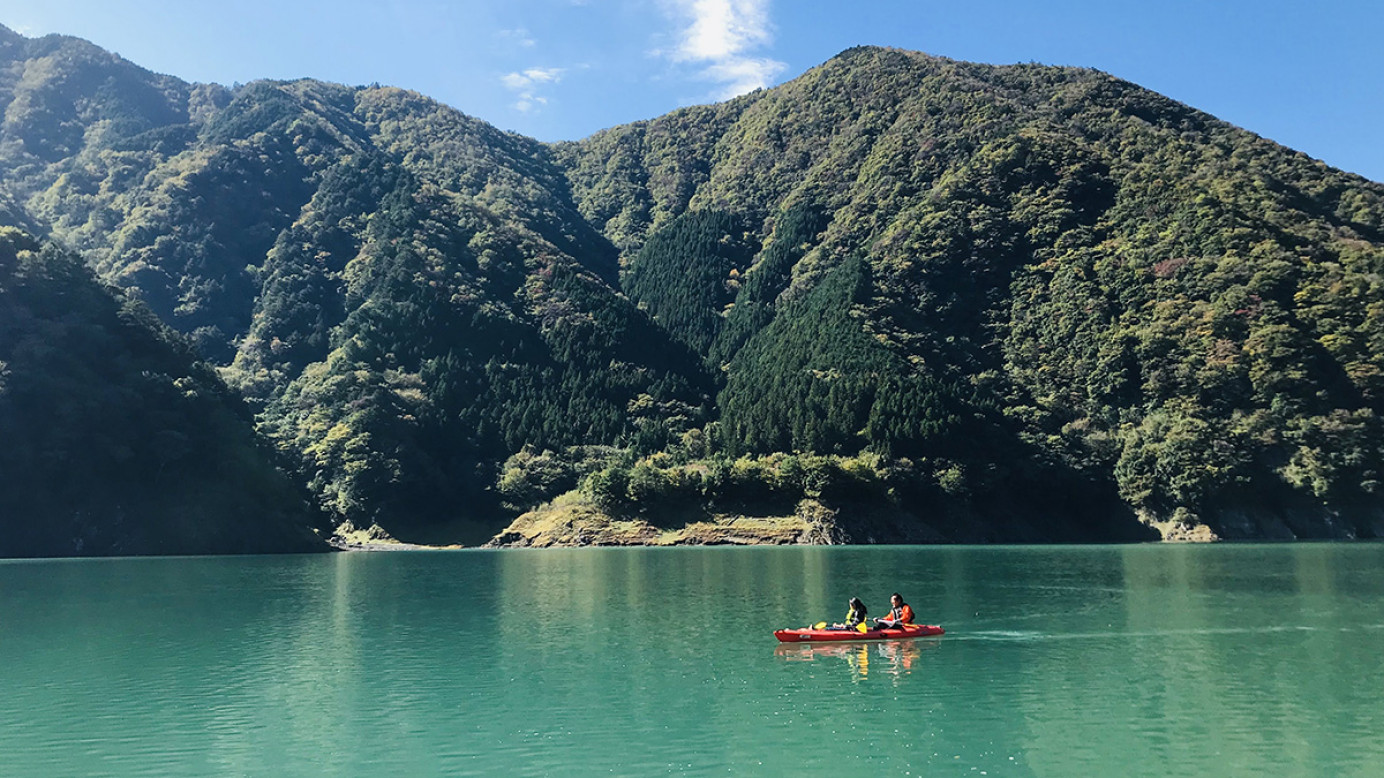 What is summer without fireworks? Visit Suruga in early August to enjoy the Shimizu Port Festival. This three-day dancing extravaganza ends with a grand display of fireworks over Suruga Bay
Autumn
Autumn is characterized by brilliant foliage and cooling temperatures. Suruga's abundant nature makes it a wonderful place to view the changing leaves. At Sumata Gorge, admire fiery foliage against turquoise waters, and walk across the Suspension Bridge of Dreams (Yume no Tsuribashi), an internationally renowned bridge.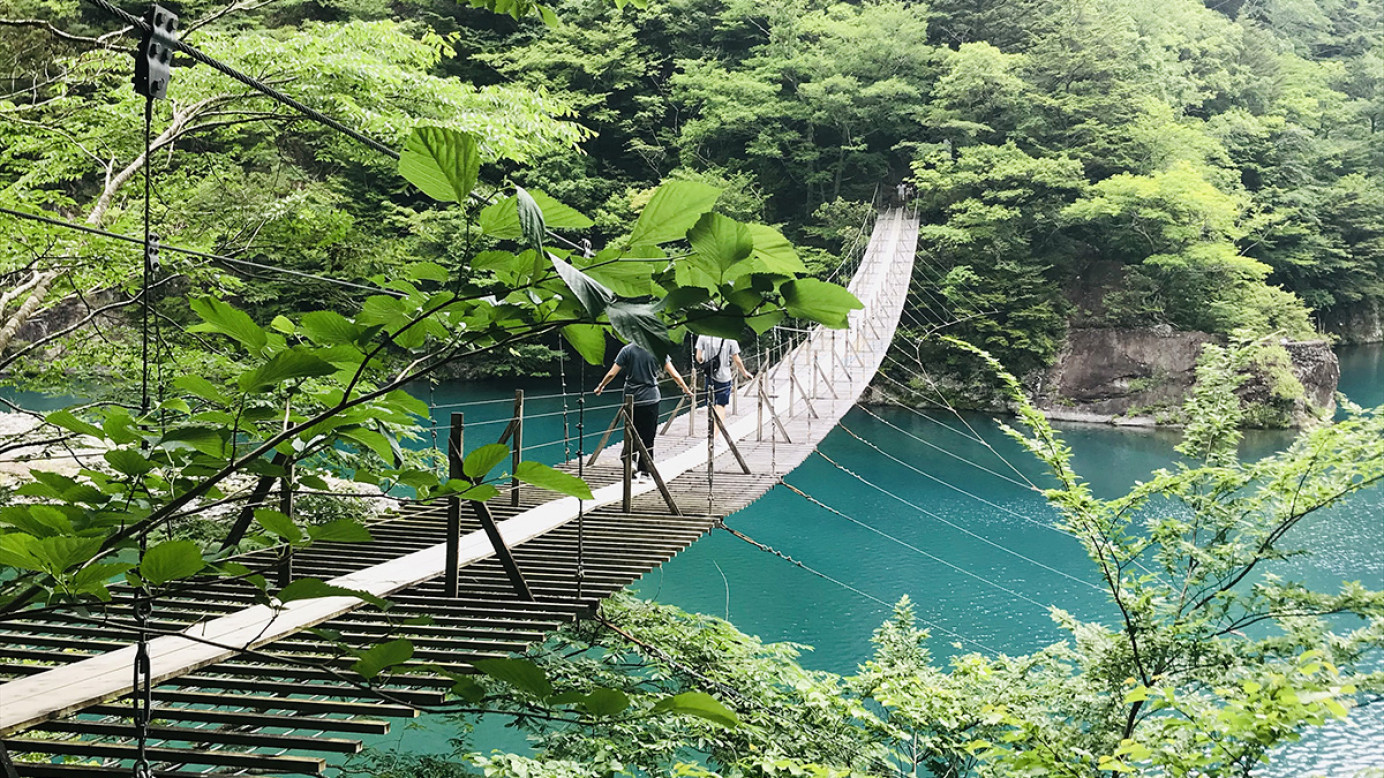 In Fujieda City, explore an old waterwheel village situated in picturesque nature and participate in countryside activities.